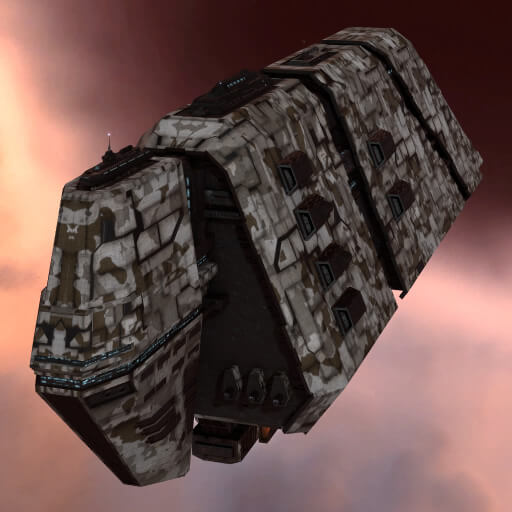 Nomad
Jump Freighter
Nomad
Race:

Minmatar

Tech level:

2

Base price:

9,875,200,000 ISK
Nomad
Description:
There is continuing speculation as to how exactly the Thukkers manage to move their vast caravans throughout space relatively undetected, but their expertise with jump drive technology became glaringly apparent when they created the Nomad. Now seeing widespread service with roving Thukker outrider detachments, the Nomad is rapidly becoming an essential part of Thukker life away from the great caravans.

Developer: Thukker Mix

Thukkers spend their entire lives forever wandering the infinite in their vast caravans. As such their technology is based as much upon necessity as their ingenious ability to tinker. Their ship designs therefore tend to based upon the standard empire templates but extensively modified for the Thukkers unique needs.
Nomad
ship bonuses:
Minmatar Freighter bonuses (per skill level):
5% bonus to ship cargo capacity
5% bonus to ship inertia modifier
Jump Freighters bonuses (per skill level):
10% bonus to ship shield and hull hitpoints
10% reduction in jump fuel requirement
Role Bonus:
100% reduction in Reinforced Bulkhead CPU requirements
90% reduction to effective distance traveled for jump fatigue
Nomad
defenses
hitpoints
EM
resistance
explosive
resistance
kinetic
resistance
thermal
resistance
uniformity *
Shield:
57600
0.75 %
Armor:
26400
0.75 %
Structure:
78000
1 %
* Threshold below which damage starts "bleeding" through to the lower level

Shield recharge time: 6000000 S
Nomad
Fitting:
Powergrid output:

3 MW

CPU output:

5 Tf

Calibration:

0 points

Capacitor:

30000 GJ

High slots:

0

Med slots:

0

Low slots:

3

Turret hardpoints:

0

Launcher hardpoints:

0

Rig slots (size):

0 (Extra large)
Nomad
Targeting:
Max locked targets:

0

Max targeting range:

0 M

Radar sensors:

- points

Ladar sensors:

82 points

Magnetometric sensors:

- points

Gravimetric sensors:

- points

Signature radius:

9700 M

Scan resolution:

0 Mm

Scan speed:

6750 S
---
Structure and speed:
Mass:

820000000 kg

Volume:

15500000 m3

Cargo capacity:

132000 m3

Maximum velocity:

96

Inertia modifier:

0.055
Recommended certificates:
Armor Reinforcement
Jump Drive
Shield Reinforcement
Speed and Travel:
Ship Warp Speed

1

Warp Speed Multiplier

1.5
Capacitor:
Capacitor Capacity

30000

Capacitor Recharge time

406516
Fitting:
Rig Slots

0

CPU Need Bonus

-100
Drones:
Drone Bandwidth

0

Drone Capacity

0
Heat:
Heat Attenuation

0

Power Load

0

Fuel Bay Capacity

12000

Capital Sized Vessel

1

Cargo Scan Resistance

0

Jump Fatigue Multiplier

0.1

Capacitor Warfare Resistance

1

Weapon Disruption Resistance

1

Stasis Webifier Resistance

1

Item Damage

0

Meta Level

5

Onboard Jump Drive

1

Jump Drive Fuel Need

17889

Maximum Jump Range

5

Jump Drive Consumption Amount

8200

Jump Drive Capacitor Need

0.95
---
Manufacturing
Base materials:
Construction Blocks:

2250

Morphite:

3750

Capital Propulsion Engine:

28

Capital Armor Plates:

13

Capital Jump Drive:

30

Capital Cargo Bay:

83

Capital Construction Parts:

49

Capital Deflection Shield Emitter:

674

Capital Electrolytic Capacitor Unit:

1056

Capital Fernite Carbide Composite Armor Plate:

1520

Capital Ladar Sensor Cluster:

665

Capital Nanomechanical Microprocessor:

1056

Capital Nuclear Reactor Unit:

777

Capital Plasma Thruster:

633
Manufacturing
Blueprint details:
Blueprint:

Nomad Blueprint

Tech level:

2
Manufacturing
Extra materials:
R.A.M.- Starship Tech:

40

Fenrir:

1
Industry:

5

Minmatar Starship Engineering:

4

Mechanical Engineering:

4

Capital Ship Construction:

4
Fuzzwork blueprint calculator
---
Reprocessing
Materials:
Tritanium:

0

Pyerite:

0

Mexallon:

0

Isogen:

0

Nocxium:

0

Zydrine:

0

Megacyte:

0

Morphite:

3750